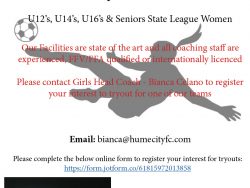 GIRLS REGISTRATION OF INTEREST FOR TRYOUTS Our girls program will now be expanding for the 2017 season.  Our Facilities are state of the art and all coaching staff are experienced, FFV/FFA qualified or internationally licensed. Register your interest for... For what has proven to be a tough start to the season for our girls, with being a first year team and coming together as one with a very short pre-season as well as battling various player injuries, the girls have been training hard since late February to...
CONGRATULATIONS TO OUR GIRLS TEAM WHO FOUGHT HARD OVER THE WEEKEND TO ACHIEVE RUNNERS UP IN THE U16 GIRLS FC TOURNAMENT. WE LOOK FORWARD TO THE UPCOMING 2016 SEASON!!!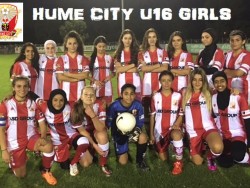 On 15 March 2016 our U16 Girls took on Keilor Park with a 7pm kickoff at ABD Stadium. This game proved to be a great testament of what the season will uphold for our girls as both teams will be playing in the same U16 Girls North-West B Division this seas...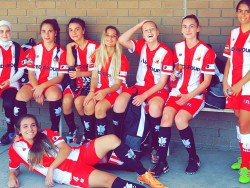 After a few weeks of training we have now established a full squad and were ready to play our very first practice game against Moreland United. So add it to the history books , On Sunday 6 March 2016 Hume City's very first girls team played their fi...