NPL Round 18 Review: Hume City return to winners list after Bentleigh Greens thrashing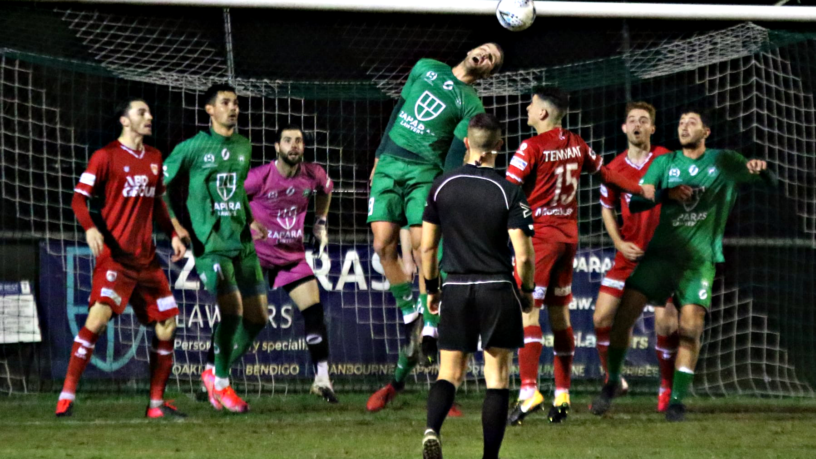 It was the away side that kicked off proceedings with most chances in the opening 10 minutes of the game. However, Hume failed to convert the opportunities due to the shots going wide.
The end-to-end action continued but it was Mitch Cooper who was at the center of attention at the 32nd minute, when his interception forced Bentleigh's last defender to foul the forward who was through on goal. The referee's decision to brandish a yellow card came as a surprise to Nick Hegarty and his side, as they were adamant that the foul was a red card offence.
Hume finally broke the deadlock at the 37th minute when Danny Dixon's long ball found Josh Bingham's run. Bingham managed to blast past his defender before firing home the opening goal of the night past a helpless Javier Lopez at the near post.
Moments later, Bentleigh were awarded a free kick in a dangerous spot. However, much to the relief of Michael Weier and his defence, Bentleigh fired the ball into Hume's wall before the away side managed to clear the danger.
The second half saw Hume out firing as they continued to batter down Bentleigh's defence in search of a second goal.
Matthew Lazarides' interception at the halfway mark saw him dribble and put Mitch Cooper through on goal, but Cooper was flagged offside.
Bentleigh managed to kick into gear after weathering the Hume storm and were unlucky not to be on level-pegging, after failing to convert their own chances.
As the pendulum of momentum looked to be swinging in Bentleigh's favor, Hume were two goals to the good thanks to Danny Dixon's composed finish which took a generous deflection. Jordan Maricic's interception at the halfway line saw him find Danny Dixon's run and Dixon's eye for goal saw him dribble and blast a shot past Javier Lopez to double Hume's lead.
Bentleigh nearly pinched a goal back, but an alert Michael Weier was happy to concede a corner after with his reflex save.
As Hume calmly dealt with the resulting corner, a counter-attack lead by Andy Brennan eventuated in Josh Bingham grabbing his second goal of the night and tripling Hume's lead. Brennan put Danny Dixon through on goal, but Dixon's selfless effort saw him find Bingham's run before Bingham fired past Javier Lopez at the near post yet again.
The 70th minute saw Michael Weier pull off the save of the night after denying Chudiar Tharjiath who was through on goal, earning Weier plenty of praise from his teammates.
Hume managed to see out their three-goal lead and maintain a clean sheet as the referee blew the final whistle at 90+3 minutes. This is the first time in 11 years that Hume City has beaten Bentleigh Greens at Kingston Heath Soccer Complex.
Unfortunately, Hume City's U21s suffered a 1-0 loss to Bentleigh Greens' U21s and Hume City's U19s suffered a 3-0 defeat to Bentleigh Greens' U19s side.
Hume City now have their sights set on hosting Eastern Lions SC on Saturday the 3rd of July. Seniors will be kicking off at 5:30pm and U21s will be kicking off at 7:45pm. U19s will be kicking off at 7:30pm on Friday the 2nd of July.
© 2014 Hume City FC All rights reserved.