NPL Round 10 Review: Hume City leave Lakeside Stadium empty handed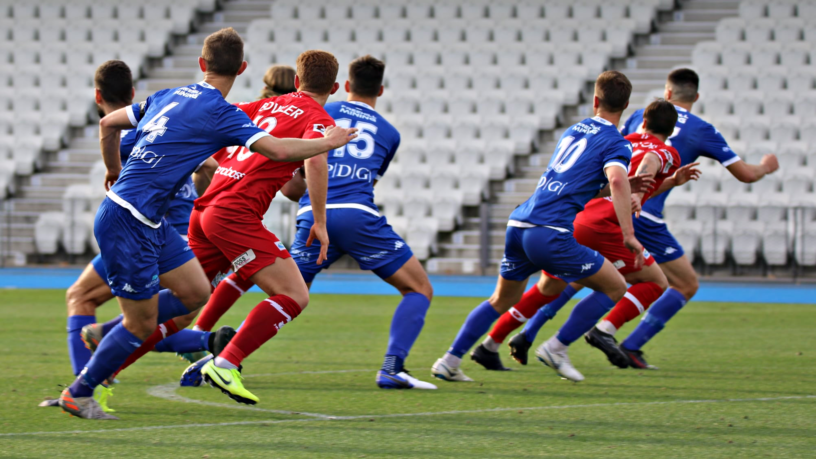 South's strong start to the game saw them take an early lead via Josh Barresi at the 9th minute when he had enough time to turn inside the box and fire a shot past Michael Weier.
Hume were extremely unlucky not to level the score shortly after conceding. Mitch Cooper's teasing cross found Josh Bingham who fired the header over the bar. Moments later, Danny Dixon managed to tee up Bingham again, but the ball got away from the forward's diving effort.
Josh Bingham's onside run was found but Andy Brennan at the 36th minute and Bingham was unlucky not to level the scoreline. South shot stopper James Burgess managed to get a touch on the goal bound shot.
Hume continued to pile on the pressure as the first half wore on. Ben Bowler was unlucky not to equalize at the 42nd minute, after a Danny Dixon free kick saw the onrushing midfielder fire a headed effort into James Burgess.
As the first half was ending, Mitch Cooper was through on goal, but James Burgess managed to prevent Cooper's lobbed effort from inside the box.
As the opening half concluded, Hume were extremely frustrated to have conceded so early on while also not converting their own chances.
Hume continued their high tempo game as the second half kicked off. An early corner for the away side saw Patrick Langlois fire a shot into South's defence.
Josh Bingham's runs continued to worry South, and an onrushing James Burgess managed to deny the Hume forward again at the 52nd minute.
South managed to conjure up two brilliant opportunities to double their lead but failed to convert them. The first saw Perry Lambropoulos turn his man inside out but was denied by the ever-present Michael Weier's reflex save. The second saw Luke Pavlou fire a dangerous volley inches over the bar.
Danny Dixon's low free kick caught James Burgess off guard, but the South shot stopper managed to parry the danger away.
South managed to seal the game at the 88th minute after a questionable offside decision saw Harrison Sawyer through on goal, before firing home the winner past a helpless Michael Weier.
Hume managed to earn themselves a consolation prize at 90+2 minutes when Hayden Tennant's ball into the box saw Josh Bingham rise above the pack to head home Hume's first goal of the night.
Despite a last-minute goal for Hume, the referee signaled full time at 90+4 minutes which saw South claim all 3 points on the evening.
Hume City's U21s and South Melbourne's U21s had to settle for a point apiece after a 2-2 draw. Koray Cekic (48') and Eray Yildiz (49') were amongst the goal scorers for Hume City's U21s. Unfortunately, Hume City's U19s fell short in a 2-0 defeat to South Melbourne's U19s side.
Hume City now have their sights set on facing Avondale FC, as they travel to Avenger Park. Seniors will be kicking off at 3pm on Saturday the 8th of May and U21s will be kicking off at 12:15pm. U19s will be kicking off at 3pm on Sunday the 9th of May.
© 2014 Hume City FC All rights reserved.