NPL Round 9 Review: Hume City slaughter St Albans in 6-0 thrashing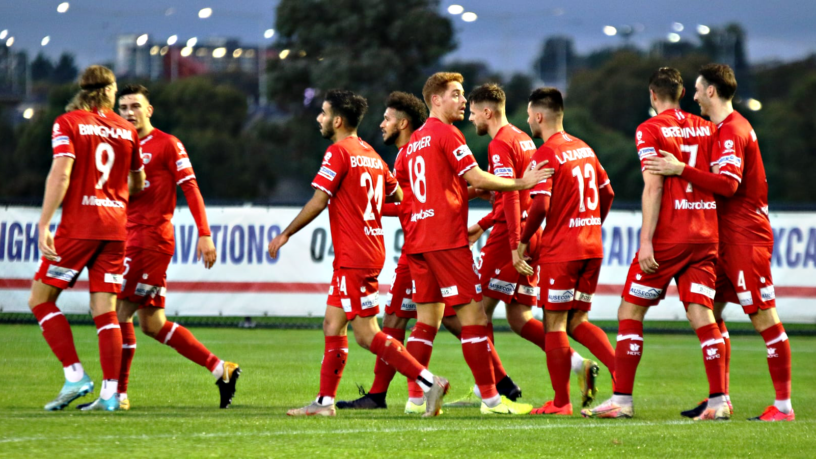 The home side were dominant from the opening whistle and it was to no surprise when they broke the deadlock at the 19th minute. Josh Bingham's initial shot was parried away by Matthew Sesto into the path of an alert Andy Brennan, who slotted in the opening goal of the night.
Hume were two to the good a few minutes later with Andy Brennan and Josh Bingham being at the epicenter of action yet again. Brennan's trickery allowed him to serve a perfect cross on a plate to Bingham, who headed home past a hopeful Matthew Sesto.
Things only continued to worsen for St Albans after Hume fired home their third goal of the night at the 33rd minute. Josh Bingham had enough time to turn and find Mitch Cooper, who calmly slotted past Matthew Sesto.
The half time break came as a sigh of relief for the away side, as Hume could have been up by a few more. Nonetheless, the job was not finished and there were still another 45 minutes to go.
The second half saw Hume pick up where they left off from in the opening 45 minutes. Andy Brennan and Josh Bingham continued to menace St Albans, with Bingham firing an open shot over the bar after the opening minutes of the whistle.
The 60th minute saw Andy Brennan blast home Hume's fourth goal of the night after some link-up play with none other than Josh Bingham. Matthew Sesto could not do much due to the pace of the ball having him beat.
Hume were five goals to the good after substitute Theo Markelis calmly slotted home past Matthew Sesto. The build-up play between Andy Brennan, Josh Bingham and Patrick Langlois saw Markelis completely unmarked at the back-post.
St Albans almost earned themselves a consolation prize via a corner at the 74th minute, but an alert Matthew Lazarides cleared the danger off the line as Hume were looking to maintain a clean sheet.
At the 76th minute, history was made at ABD Stadium after substitute and debutant Kaan Elibol became the youngest Senior goal scorer for Hume City. Josh Bingham found Elibol inside the box which saw Elibol fire home Hume's sixth goal of the night.
Hume continued to push for a seventh goal, but referee signaled full time at 90+3 minutes, much to the relief of St Albans.
Hume City's U21s and St Albans U21s had to settle for a point apiece after a 1-1 draw. Eray Yildiz (85') was the goal scorer for Hume's U21s. Hume City's U19s managed to secure a 2-1 win over St Albans U19s. Sinan Gluhak with both goals for Hume's u19s (10' & 39').
Hume City's Senior Women's side managed to thrash Brunswick Zebras Senior Women's side 9-2. An impressive performance by the Women's side.
Hume City now have their sights set on a double match week, as they welcome Frankston Pines FC to ABD Stadium on Tuesday the 27th of April in their FFA Cup Round 5 clash. Seniors will be kicking off at 7:45pm. Hume City then travel to Lakeside Stadium on Saturday the 1st of May, to take on South Melbourne FC at 3pm.
© 2014 Hume City FC All rights reserved.