NPL Round 8 Review: Hume City hopes shattered due to controversial refereeing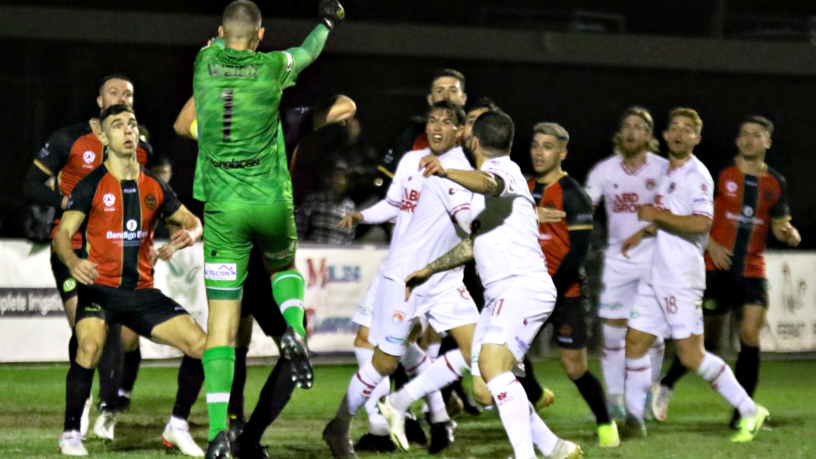 The opening 20 minutes of play saw plenty of end-to-end action from the opening whistle, with both sides showing much attacking intent from the get-go.
Andy Brennan was at the centre of attention after being brought down inside Thunder's box at the 23rd minute. Up stepped Josh Bingham who converted the penalty with ease, sending Francis Soale the wrong way.
At the 28th minute it was absolute controversy when a routine clearance by Patrick Langlois was deemed penalty-worthy given no player contact was made. Hume were furious with the decision, given no other officials were consulted to ensure the right decision was being made. However, Thunder took full advantage of the opportunity awarded to them and Nahuel Bonada slotted home the penalty to level the scoreline.
The poor officiating continued to frustrate the away side as Umut Bozdugan received a red card which was then rescinded due to a mental lapse by the referee.
As the game was approaching half time, Thunder took the lead thanks to a moment of brilliance from Nahuel Bonada who lobbed the ball over Michael Weier.
Frustrated was an understatement for Hume as they entered half time down 2-1 due to poor officiating during critical times, setting precedent for the remainder of the game.
Two minutes into the second half and Thunder were three goals to the good, after an onside Ali Sulemani pounced on Michael Weier's parried effort.
Nick Hegarty injected Danny Dixon into the game at half time as a replacement for Mark Ochieng. Dixon nearly made an immediate impact after his effort from halfway nearly levelled the score, after catching Francis Soale off his line.
As Hume continued to build momentum and get in some great goalscoring positions, a Thunder counterattack saw Ali Sulemani calmly slot in his side's fourth of the night.
Marko Delic was brought into the game to unleash his pace at the 56th minute, in exchange for Mitch Cooper.
Despite being down by three goals, Hume's persistence was rewarded at the 74th minute, when Josh Bingham claimed his second goal of the night after having too much time on the ball inside Thunder's box.
Hume continued to press as they started to gain belief and were back in the game when Danny Dixon fired a thunderous volley from outside the box, bringing the scoreline to 4-3 at 84 minutes.
Another moment of controversy occurred at 90+2 minutes when a clear handball was waived play on by the referee, adding further frustration to Hume on the night.
The final chance of the game saw Michael Weier rise above the back but his headed effort went wide, with the full time whistle being signalled moments later.
Hume City's U21s continue to impress this season after a 2-1 victory against Dandenong Thunder's U21s side. Eyob Zewdie (38") and Kaan Elibol (77") were amongst Hume's goal scorers. Unfortunately, Hume City's U19's fell short in a 2-1 loss against Dandenong Thunder's U19s side. Sinan Gluhak (53") was the goal scorer for Hume.
Hume City now have their sights set on Saturday the 24th of April, as they host St Albans SC at ABD Stadium. Seniors will be kicking off at 5:30pm, U21's at 7:45pm and our U19's ate 7:30pm Friday.
© 2014 Hume City FC All rights reserved.