NPL Round 5 Review: Hume City sink Bentleigh Greens in thriller at ABD Stadium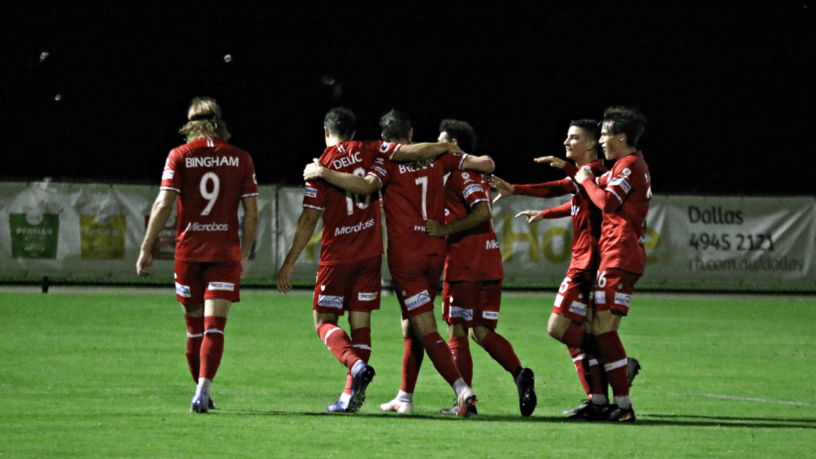 Round 5 saw Hume City FC return to the winners list, after an impressive 2-0 win and sending reigning NPL champions Bentleigh Greens SC home empty handed from ABD Stadium.
Despite a scoreless first half, there was plenty of action as both sides showed promise by getting into goal scoring positions, forcing both goalkeepers into pivotal saves. Hume controlled the match from the get-go, having several attempts on goal within the first 20 minutes.
Josh Bingham looked like the danger man for his side and was unfortunate not to give Hume the lead, after two brilliant chances at the 6th and 35th minute saw Javier Lopez pull out two wonder saves.
As the first half was coming to an end, Nick Hegarty was forced into a substitution at the 44th minute when Jordan Maricic ended up on the wrong end of a Greens tackle. James Brown was his replacement.
As the second half progressed, a flurry of good chances from either side went begging, as both teams were trying to break the deadlock.
A tactical substitution by Nick Hegarty at the 64th minute saw Mitch Cooper make his long-awaited return to NPL action, as he entered the game for Theo Markelis.
Michael Weier was not letting Javier Lopez steal the show with wonder saves, as the Hume shot stopper was forced into a fingertip save at the 67th minute to deny Greens.
Moments later at the 68th minute, it was Marko Delic who opened Hume's account after capitalizing on a Javier Lopez blunder inside the Greens box. Josh Bingham created a run down the right-flank, before putting in a teasing ball into the box which allowed Delic to pounce.
Not long after, Hume were two to the good at the 81st minute. This time it was substitute Mitch Cooper who took two swift touches before calmly slotting the ball past Javier Lopez. Full credit to Andy Brennan's outside of the foot pass and vision to find Cooper's brilliant run.
Nick Hegarty deployed Mark Ochieng at the 86th in exchange for Josh Bingham.
Greens almost earned a consolation prize after a corner saw a headed effort ricochet off the crossbar at the 88th minute.
The referee signaled full time at 90+4 minutes which saw ABD Stadium erupt after Hume City walked out 2-0 winners and earned a clean sheet.
Hume City's U21's and 19's were both victorious on the weekend, after claiming 1-0 wins respectively. Goal scorer for the U21's was Jack Kotsopoulos (40") and goal scorer for the U19's was Eyob Zewdie (59").
Hume City now have their sights set on a double match week, as they travel to The Grange Reserve on Wednesday the 31st of March, to take on Eastern Lions SC at 7:30pm. Hume City then welcome Warragul United to ABD Stadium for Round 4 of the FFA Cup, on Saturday the 3rd of April. Kick off will go ahead at 5pm.
© 2014 Hume City FC All rights reserved.