NPL Round 2 Review: Hume City share points with Green Gully after last minute equalizer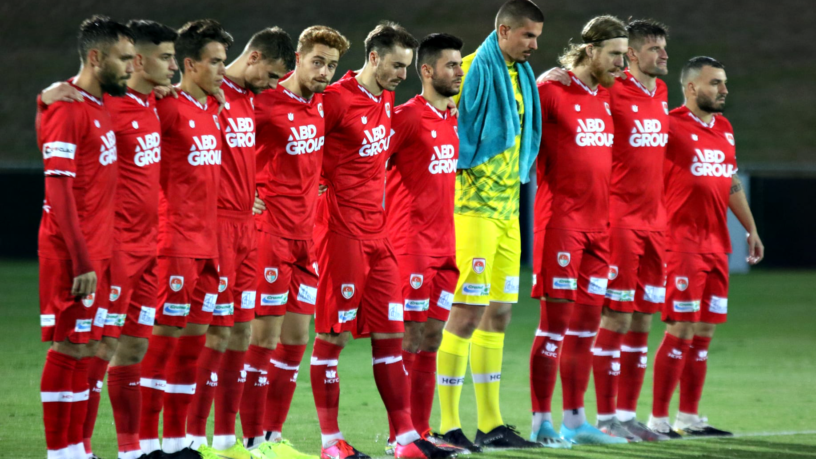 Round 2 saw Hume City FC travel to Green Gully Reserve. Both sides were looking to get their NPL campaigns up and running, with Hume City failing to take all 3 points in Round 1 after a scoreless stalemate against Altona Magic SC, and Green Gully looking to continue their good form after beating St Albans SC 2-0.
The away side looked lively from the get-go after Danny Dixon's ball into Gully's box saw Jerrad Tyson spill hit attempted catch, but nobody was there to capitalize for Hume City. Gully were then able to start a counterattack which saw Mamadi Kamara in a 1v1 situation, but Michael Weier stood his ground to deny the winger from breaking the deadlock. At the 18th minute, Andy Brennan was able to dribble inside Gully's box but the defence stood its ground and conceded a corner. The away side continued to look dangerous and at the 23rd minute when Theo Markelis found an onside Josh Bingham, but Hume failed to capitalize on Bingham's pass into the danger zone. However, the away side's persistence was finally rewarded when Josh Bingham powered his way through Gully's defence and calmly slotted the ball home for the opening goal of the night, and Hume City's first of the season. The away side continued to pile on the pressure, as Jordan Maricic's long ball found an onside Andy Brennan who blasted his cross out for a Gully throw-in. Alex Salmon should have levelled the score at the 33rd minute, but it was Jordan Maricic that denied the forward with a spectacular headed block. With the half time whistle looming, Jordan Maricic earned his side a free kick in a dangerous spot, and the resulting shot from Danny Dixon was inches away from doubling the away side's lead.
The half time break saw Hume City leading but knew they could have put the game to bed, had they of converted their goalscoring chances. Gully knew that they needed to change things up if they were to take anything away from the game.
Hume City had a brilliant chance to double their lead in the opening minutes of the 2nd half, after Matthew Lazarides' ball to Josh Bingham resulted in James Brown finding himself in a 1v1, but his shot was fired over the bar. At the 59th minute, Jeremy Walker's dangerous cross into Hume's box saw Alex Salmon rise above the pack but his headed effort went over the bar. Hume City then retaliated moments later, with Josh Bingham's hustle up front resulting in Andy Brennan firing a shot from distance over the bar. Both sides continue to go end-to-end, and Luc Jeggo who found himself in open space at the 66th minute but blasted his shot over the bar. Substitute Anthony Poljak decided to get in on the action at the 78th minute, with his volley from distance forcing Michael Weier into a diving save. At the 90th minute, Hume City could have sealed the game after substitute Mark Ochieng blitzed through Gully's defence down the right flank before picking out an open James Brown, who dribbled around Gully's defence before laying the ball off for Ochieng's shot which was deflected out of bounds. However, it was Gully that counterattacked, and Anthony Poljak was able to cut in and equalize for his side at the death, much to the frustration of Hume City's resilient defence all game. Gully almost stole all 3 points after both Melvin Becket's headed effort and Jeremy Walker's volleyed effort forced Michael Weier into 2 crucial saves, earning his side a valuable point for the night. The referee signalled full time at 90+5 minutes which saw both sides settle for a point each.
Our U19's and U21's teams travelled to Green Gully Reserve the following day on Saturday the 6th March. It was our U19's who kicked off first at 1pm. It was a match full of goals which in the end saw our boys secure a 3-2 win, and their first win of the 2021 NPL Season. Sebastian Todorovski got his brace scoring at the 13th and 52nd minutes, and Luke Agius at the 43rd. This game was then followed by our U21's, which had even more goals in store for the fans. It was Ermin Julardzija who opened the scoring in the 1st minute, and Mouze Ali with a brace at the 62nd and 85th minutes. Despite the efforts by the team, it was Green Gully who took all three points in a 4-3 win.
Hume City now have their sights set on Saturday the 13th of March, as they host Dandenong City at ABD Stadium. Seniors kick-off at 8pm. U21's at 5:30pm. U19's at 7:30pm on Friday the 12th of March.
© 2014 Hume City FC All rights reserved.