NPL Round 1 Review: A scoreless stalemate between Hume City and Altona Magic at ABD Stadium for the season opener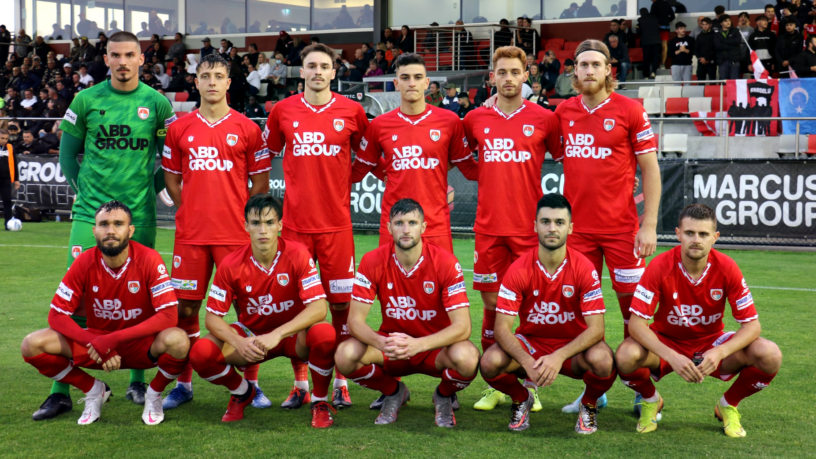 Round 1 saw Hume City FC Altona Magic SC to ABD Stadium. Both sides were looking to get their NPL campaigns up and running, with Hume City having a brilliant few seasons and Altona Magic looking to showcase their new look side. 
Both sides looked lively from the opening minutes and created some major goal-scoring opportunities, with Harry Noon picking out Nicholas Sette twice at the 7th and 10th minute mark, which should have given Magic the lead. Hume also had a brilliant chance in the opening minutes when Danny Dixon's ball into the box found teammate Marko Delic, but the shot failed to test Chris Oldfield. The home side started to settle and find their feet after the opening 20 minutes as Matthew Lazarides and Danny Dixon started to get involved and fire balls into the box, but Hume failed to get bodies behind the ball. Dixon continued to look lively down the right-flank and picked out teammate James Brown, who managed to whizz a dangerous cross into Magic's box, but Marko Delic was inches away from breaking the deadlock at the 32nd minute. Hume then had a dangerous free kick opportunity but Chris Oldfield's fingertip save denied James Brown's headed effort.
Both sides entered half time relatively frustrated after failing to convert numerous goalscoring opportunities. However, there was still another 45 minutes available for either team to capitalize.
The second half began with a Hume attack eventuating in Andy Brennan firing a left-footed effort from outside the box into Chris Oldfield's path. Brennan continued to look lively for the home side after substitute Theo Markelis picked out Brennan's run and put him through on goal, with Brennan's chip effort almost giving Hume the lead. Michael Weier was in tip-top form after a dangerous Magic free kick forced him into a fingertip save which was arguably the save of the night. Matthew Lazarides and Danny Dixon continued to be menaces for the home side, after Dixon's ball into the box saw Lazarides pick out Andy Brennan whose left-footed effort was not far from troubling Chris Oldfield. The home side continued to apply pressure as the second half progressed, with Theo Markelis intercepting a sloppy free kick from Magic and picking out teammate James Brown, who fired a shot from distance which failed to trouble Chris Oldfield. Brown followed up not long after with a shot from distance that went wide. The final chance of the game was a dangerous Magic free kick which was claimed by Michael Weier to close out the game.
The referee signalled full time at 90+3 minutes which saw both sides settle for a point each. Hume City now have their sights set on the 5th of March, as they travel to Green Gully Reserve to take on Green Gully SC. Seniors kick-off at 8pm.
© 2014 Hume City FC All rights reserved.