Josh Bingham's thumping header secures 1-0 win for Hume City in Bentleigh Greens showdown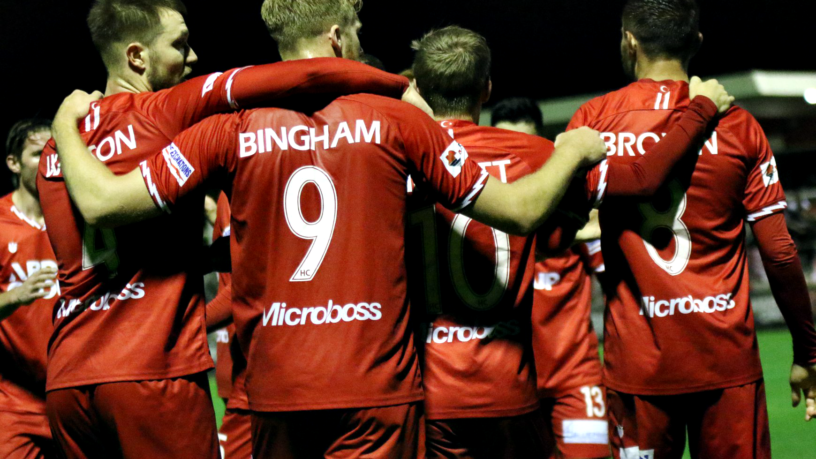 Josh Bingham's thunderous header was enough for Hume City as they held off the 2019 NPL Champions Bentleigh Greens at ABD Stadium, in a 1-0 win.
The opening chance fell to Hume after Matthew Lazarides managed to spin his way out of trouble, before his intended pass to Mitch Cooper fell into the path of Javi Lopez.
Bentleigh then managed to conjure numerous chances of their own but Hume continued to throw bodies behind the ball, which saw them fend off a series of attacks.
Hume nearly took the lead after Josh Bingham found an onrushing James Brown, but the forward hammered his shot wide.
Bentleigh continued to pile the pressure on Hume's defence but the resilient home side wouldn't let anything through, after a freekick was cleared and then a goal bound shot was fired wide.
Despite being under immense pressure in the opening 25 minutes, Hume managed to regain composure and Harry Monaghan's steel saw him win two big tackles which eventuated in Josh Bingham being put through on goal. Bingham them managed to dribble past Javi Lopez before the shot took a deflection for a corner.
The halftime whistle saw a goalless opening half despite both sides creating numerous chances of their own. Nick Hegarty's side continued to gain momentum as the first half progressed and a big second half performance was needed to back it up.
Hume began the second half in style after rectifying small errors from the opening 25 minutes and maintaining possession. However, Bentleigh managed to prevent a series of Hume attacks.
As the second half progressed and frustration began to kick in, it was Hume who managed to break the deadlock after a series of passes saw Matthew Lazarides' cross find Josh Bingham, who rose above the pack before firing in a thumping header to give his side the lead (1-0) at the 64th minute.
Bentleigh continued to push forward with a series of attacks in hopes of finding an equalizer, but Hume's defence stood up to the challenge for the entire 90 minutes.
The fourth official signaled 5 minutes of added time, but Hume were searching for a second goal to kill the game off after Andy Brennan found the lively James Brown who drilled a shot from distance over the bar.
The full-time whistle saw ABD Stadium erupt after Hume City secured their 5th consecutive win and their 3rd clean sheet of the 2020 NPL Campaign.
Hume City now have their sights set on Round 6 which will see them take on Eastern Lions SC on Sunday the 22nd of March at Gardiners Creek Reserve. Kick-off will go ahead at 3:00pm.
© 2014 Hume City FC All rights reserved.