NPL Round 2 Review: Ersin Kaya's early strike earns Hume City all 3 points against Oakleigh Cannons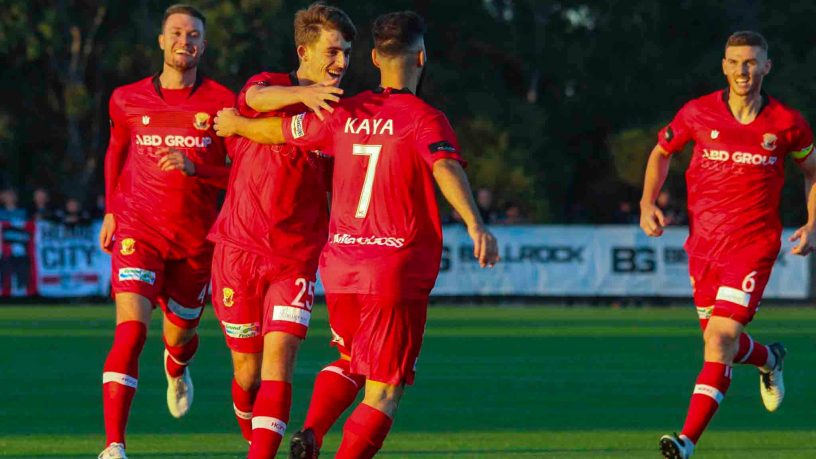 After an impressive 4-0 thrashing against Dandenong Thunder F.C, Hume City return to ABD Stadium to take on a new look Oakleigh Cannons, who are yet to register a win for their 2019 campaign.
Round 1 saw Hume City dismantle and dominate Dandenong Thunder at George Andrews Reserve, claiming all 3 points on the road. James Brown and Mitch Cooper both had their shooting boots on, bagging 2 goals each. A rare away clean sheet was also on the cards for Hume City, as Nick Hegarty's men were sharp both offensively and defensively from the get-go. Hegarty would certainly be delighted with Hume City's impressive start to the season, after Hume City's struggles in recent years.
Oakleigh Cannons' new look side on the other hand suffered a 2-1 home defeat against Melbourne Knights FC. Hamish Watson's two goals at the 53rd and 76th minute was enough to claim all 3 points for the away side.
It didn't take long for Hume City to continue their excellent start to their 2019 NPL campaign, after Ersin Kaya's well-placed shot managed to find its way past John Honos and put the home side up 1-0 at the 3rd minute. The goal started from Mitch Cooper's run down the left flank being found by Steven Hewitt. At the 11th minute a Steven Hewitt free kick was cleared by Oakleigh's defence, only for the resulting ball to be crossed back in by James Brown to Ben Bowler, who volleyed straight into the hands of John Honos.
At the 35th minute, Cannons had their best chance in the form of a Milos Lujic bound cross from Joe Guest, only for Paul Wilson to read the play and put he ball out for an Oakleigh corner. Oakleigh were then awarded a free kick on the edge of the 18-yard box, only for Joe Guest's effort to be plucked out of the air by Michael Weier. 
Mitch Cooper continued to look lively for the home side, after his cross resulted in an Ersin Kaya header finding John Honos' hands at the 44th minute. The home side went into the break leading 1-0, courtesy of Ersin Kaya's early strike and Hume City setting the tempo and dominating the opening half. Oakleigh needed to come out a different side in the second half if they were to take anything away from this game.
Hume City picked up where they left off to begin the second half. At the 47th minute, Will Hendon's wonderful ball put Steven Hewitt through on goal and his cut-back to James Brown was a tad behind Brown's feet. The resulting ball fell to Will Hendon, who fired his shot straight into Honos from the 6-yard box.
Oakleigh had their best chance to score off a 51st minute corner, only for Michael Weier to claim the ball on the line after saving it with his feet. Hume City then had a few headed deflections off a Steven Hewitt corner at the 53rd minute, but Oakleigh managed to clear the ball out of the danger zone. A free kick won by Will Hendon and delivered by Steven Hewitt at the 75th minute, lead to an unmarked Paul Wilson at the back post missing the goal completely.
Nick Epifano managed to dribble past Hume City's defence at the 78th minute, but Michael Weier's alertness lead to him claiming the ball. At the 81st minute, substitute Matthew Lazarides managed to stay onside and his run was found by Ben Bowler, only for Lazarides to cut in and fire straight at John Honos. Lazarides continued to provide energy for the home side, as he found an onside Bradley Blumenthal at the 92nd minute. Blumenthal's left-footed shot was saved by John Honos, earning the home side a corner in the dying minutes of the game.
The referee blew the final whistle at the 95th minute and Hume City are now two wins in a row and are yet to concede this season. Nick Hegarty's men now sit 1st on the ladder and have their sights set on the 2nd of March, as they travel to Paisley Park to take on Altona Magic. The Magic are yet to register a win, after losing their opening 2 games to Green Gully (1-0 home) and Melbourne Knights (4-3 away).
© 2014 Hume City FC All rights reserved.