Hume City shrug off slow start to claim three points against Port Melbourne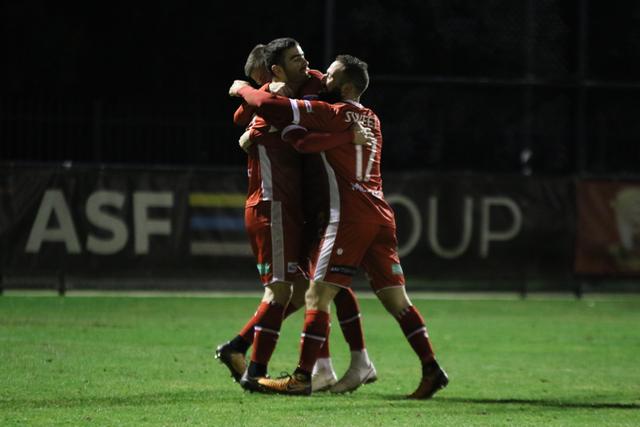 Hume City have shrugged off a slow start to claim all three points against Port Melbourne Sharks and go four points clear of the relegation zone, with South Melbourne and Northcote still to play tomorrow.
The Sharks started the game the stronger of the two teams and exploited the gaps left by Hume's high pressing game, creating a number of chances inside the opening 25 minutes.
Hume swung the momentum back in their favour in the final 20 minutes before the break in what was a half of two halves.
City sightly adjusted their pressing tactic, winning the ball in the midfield a number of times as the half wore on, and springing potent attacks that left the Sharks on the back foot.
The sound of the half-time whistle will have come as great relief for the Sharks as they held on to go into the half-time break level.
City carried their momentum into the second half, forcing a save out of the Sharks keeper in the first minute of the half.
The Sharks created a chance of their own only a minute later, but Hume continued to push for a goal, and it finally came in the 77th minute after a well-worked passing move ended up at the feet of Brad Blumenthal who played in a cross from just outside the box which was met with a header from Tom Barforosh past a despairing Sharks keeper.
The Sharks pushed men forward in search of an equaliser, and Hume had a chance on the break in the final minute of the game; James Brown got in behind the Sharks defence and squared the ball to Barforosh who was one-on-one with the keeper but bluffed his lines and failed to double his and Hume's account.
But it mattered little as the full-time whistle blew moments later and Hume held on for a crucial win in their survival bid.
Hume manager Nick Hegarty told the media after the game that he was not expecting such a fast start from the Sharks.
"We were expecting a lot less, maybe we played a bit into their hands," he said.
"They did really well in the first half and kind of dominated us.
"They were impressive in the first half so credit to them.
"We were doing things that we shouldn't, so it was important at half-time that we got the right message to the players in terms of what we needed to dominate the game, and we did that in the second half."
The full video of Hegarty's post-match press conference will be up on the Hume City Facebook page tomorrow morning at 10am.
© 2014 Hume City FC All rights reserved.