Govan pens new deal and will lead the team in 2018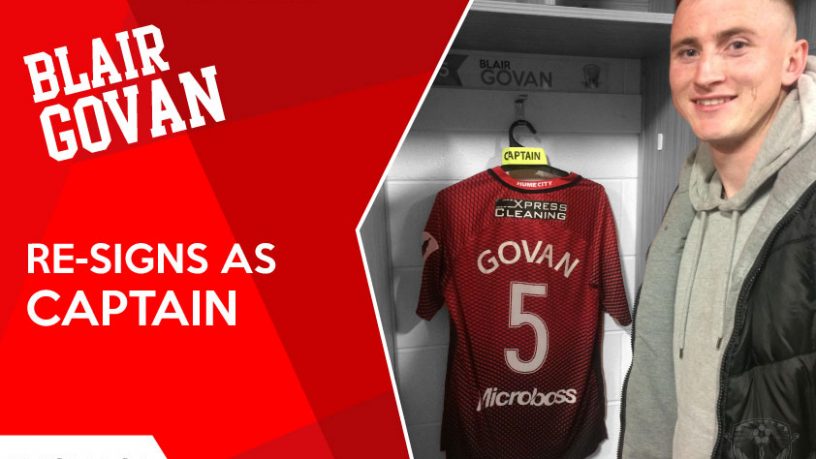 Blair Govan has extended his stay at Hume City signing a new 2 year deal.
Blair was given the armband by then Caretaker Coach Nick Hegarty and now, in the role permanently he has been given the role on a full time basis.
After signing his new contract we caught up with the new skipper,
"I'm really pleased to commit to Hume City and honored to be given the opportunity to captain the team. I'm hoping that I will be the type of leader our players will believe in, I want to go about everything in the right way, set a good example on and off the pitch and hopefully inspire others to do the same" Govan said.
"When I joined Hume it never crossed my mind about becoming captain, I was just focusing on playing well consistently and improving my game. To be leading the team in my second season is something really exciting for me and I hope it will take my game to another level."
"Its a great opportunity to mature as a footballer and I feel like having a coach like Nick (Hegarty) will help me as he has obviously been a great leader for the club over the last 5 years. "
"Its really exciting times at Hume, we've got a lot of talented young players coming through and I look forward to welcoming more of them into the senior team and I am very hopeful we will play some entertaining, passionate football next season for our members and supporters to enjoy and be proud of." Govan continued.
Hegarty was also delighted with the new appointment,
"Moving into a different role meant appointing a new captain and I couldn't be more happy with my choice. I have a young, hungry footballer here who puts everything on the line in every game and every training session for his dressing room."
"I also see this as a great thing for his own development, Blair is now representing the club at all times and will also have a more important role to do integrating with our members, juniors and supporters. After doing the job for a long time myself I know he has what it takes and I also believe this will be a defining moment for Blair. I have a feeling that this could lead him to bigger things."
Blair will continue to wear the #5 shirt and will join the boys for pre season Mid November.