Performance Academy Coach Appointed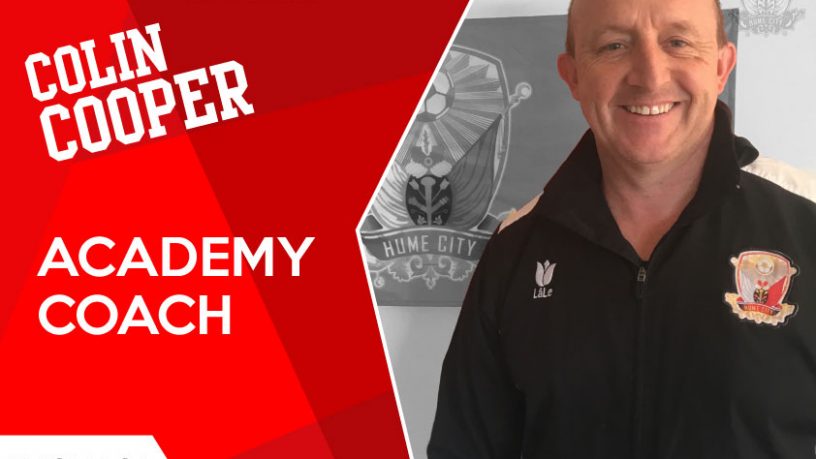 Hume City are pleased to announce Colin Cooper as an inaugural academy coach for our performance group.
Hume City will run 2 academy teams alongside our restructured NPL program in 2018 and beyond. The development squad will compromise of a select group of u13, u14 and u15 players with the performance group looking at u16, u18, u20 players. These squads will be selected through our 2018 NPL squads and those selected will be rewarded with a scholarship for the year.
Senior Head Coach Nick Hegarty stated,
"This is the first step forward to being able to deliver high quality football education to our kids at no cost to them. My background makes me recognise the need for change as we work towards making elite football development free for those good enough.'
"Unfortunately we cannot offer it to all our players 2018 but will definitely be delivering aspects of our academic components to all our junior players throughout the year, and we hope it pushes them to improve to earn a spot in 2019."
"This is a huge moment for NPL football and a huge financial investment from our president and I am very proud to be a part of it. The first time in my 6 years in Melbourne that I have seem a club investing in youth over seniors which I am over the moon about"
Dave Smith, Director of football added,
"The "Hume City " Academy program is the next stage on an already successful youth development program – we want to be the leading club in player pathways as we aim to produce more home grown players for the first team , the appointment of "Coops" who is a big part of the club and its culture is a great step forward for the players and the club."
"Colin was the ideal choice for our older age group, he comes with a wealth of experience in both football and academia and all his expertise are hard to find in just one individual. Nick, Rob and myself are looking forward to working closer with Colin as he fine tunes players for both Hume City and beyond."
Colin has been with Hume City in a coaching capacity since 2015.
A teacher at Penleigh and Essendon Grammar School, Colin's background in Physical Education and the Sports Sciences complement his football knowledge. Colin also teaches sports psychology, skill acquisition, training principles and many other domains. He also lectured at the 2017 PEAK Phys. Ed Conference at the MCG as a leading practitioner in the 'Game Sense" teaching and coaching pedagogy.
Colin is the longest serving and most successful coach in the Associated Grammar Schools' history leading PEGS to a record 9 Premierships over a 23 year coaching span. Just this year, in addition to another premiership, he was also at the helm for the successful Bill Turner Cup campaign, which is a nationwide Under 15 tournament that started with 407 schools.
As a player Colin was recently named in Moreland City's Team of the Century and played for Australia at a youth World Cup. Because of this background and him working closely with the 15-18 age bracket for over twenty years, Hume City believes they have the right person to help deliver its development plans.
It seems Coops is itching to get underway.
"I'm really excited to be working in this space at Hume City. We want to produce our own players and we have the talent here. I've said a number of times we need to cash in on this golden generation of current youth players. With Hegs (Nick Hegarty) in charge of the seniors, Steve's vision and Dave Smith now on board, an increased focus on player development is obvious.
If I could get one message across to our parents it's that we are looking to push the boundaries of player development and we're not just talking about the academy. We have plans in place that will mean all our players will benefit from the changes. I understand all of our NPL players will benefit at different stages throughout the season.
Think about domains like GPS data, wellness cards, pre/post game nutrition, skill acquisition, warm-up protocols, injury management and recovery, sports psychology, etc. The list goes on.
We want our players to be ready and able to take the step into our first team when the time is right.
To think Hume City will have people around the club whose sole purpose is to help your child play at the highest level possible is brilliant. A mentor to them who will watch their games and identify areas of strengths and weaknesses and come up with sessions to work on them. Well for me, it's right in my wheelhouse and I can't wait to get started."
Hume City have retained over 90% of their current NPL Junior rosters but have a few spots available for the right player.
If you are interested please register using this link : https://goo.gl/UtM1Yb
© 2014 Hume City FC All rights reserved.