Goals galore for Hume U13's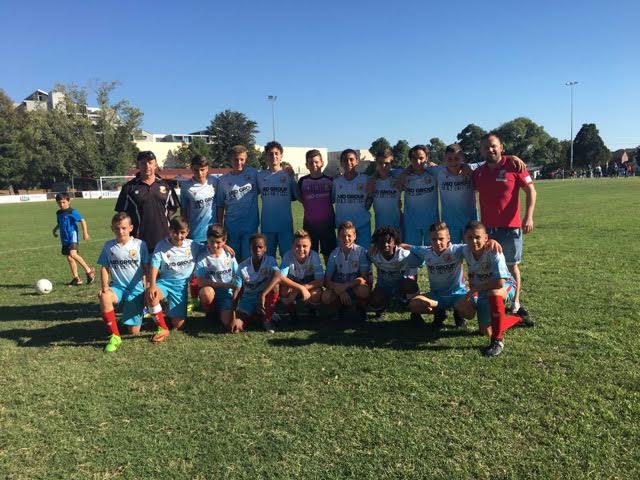 Hume City's under 13 side has continued its impressive start to the season with a 9-0 win over Moreland City on Sunday.
Hume got the scoring underway in the 6th minute via a beautiful free kick from the boot of Kaan Elibol.
Deha Kurul broke the home side's defence and went on to score four more goals in the last ten minutes of the first half with assists coming from Ahmed Iedom, Kaan Elibol and Joshua O'Kane.
Nathan Talevski got himself on the scoresheet earlier in the second half with a super strike from outside the area in the 45th minute.
Iedom would go on to score a goal of his own in the 55th minute, while Kurul would add another with only minutes remaining to cap off an impressive nine goal win.
Speaking after the win coach Colin Cooper said he was happy to get the chance to experiment with his squad as well as elevating a few of his players to the under 14 side.
"It was a good win with everybody contributing well," Cooper said.
"Moreland City were very competitive early but it's always difficult for kids when they go a few goals behind. From our point of view everybody had a good run and some even experienced a few different positions.
"The other pleasing thing for the day was that the Under 14's coach Vince Giarrizzo asked a few of our boys to play in his team.
"We were able to get some players off the ground in our game so they could rest up for the Under 14's. Vince was very happy with their output and felt that they contributed strongly to their win.
"It was a great experience for those boys and others will get the opportunity in the future."
The victory sees Hume city occupy second position on the ladder, separated from first place due to goal difference. 
Next up for Hume City is a home game against Brunswick city at ABD Stadium on March 26th, kick off 10:30.
MATCH FACTS: Moreland City 0-9 Hume City (Elibol 6' Kurul 19',21',24',28',57' Talevski 38' Balla 45' Iedom 55').
TEAM LINEUP: Zain Balla,Aydin Cekic, Phillip Dimitrovski, Kaan Elibol, Ahmed Iedom, Dilan Kaya, Deha Kurul, Darius Mihaljevic, Jake Najdovski, Orlando Ncube, Joshua O'kane, Emre Saglam, Nathan Talevski, Lucas Trenkovski, Kayra Ulku, Bayram Yetismis.
REPORT COMPILED BY: Lee Balla.
PHOTO: Lee Balla.