Hume city U13's begin their 2017 journey with a win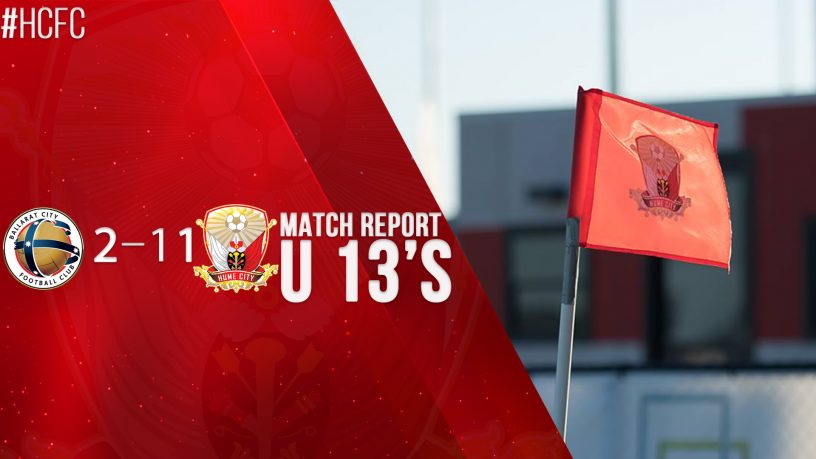 Hume City's under 13 side began its 2017 journey with a strong win away to Ballarat City on Saturday.
Only three minutes had elapsed before Hume found its opening goal through the boot of Deha Kural.
Kural would go on to score a remarkable four more goal with assists coming from Ahmed Iedom, Zain Balla, Phillip Dimitrovski and Joshua Okane.
Early in the second half Jake Najdovski found his first goal of the afternoon after latching on to a Iedom assist.
Kayra Ulku would extend Hume's lead in the 49th minute after some nice build up work saw him convert his chance sharply.
Iedom would then go on to score a goal of his own in the 56th minute.
Najdovski sealed a quick-fire brace with a well taken finish in the 54th minute.
The result sees Hume City stand clear at the top of the table with a strong goal difference.
Speaking after the win, coach Colin Cooper said he was happy with the team oriented display from his side.
"The most pleasing thing was that everyone played their part for the team," Cooper said.
"We had a couple of passing strings that were really impressive. Despite being comfortably in front the boys remained team orientated with most of the goals coming from a result of unselfishness."
Hume City continues its 2017 season at ABD Stadium on March 12 against Melbourne Knights, kick off 10:30am.
MATCH FACTS: Ballarat City 2 – 11 Hume City
SQUAD: Zain Balla, Phillip Dimitrovski, Kaan Elibol, Ahmed Iedom, Dilan Kaya, Deha Kurul, Darius Mihaljevic, Jake Najdovski, Orlando Ncube, Joshua Okane, Emre Saglam, Nathan Talevski, Lucas Trenkovski, Kayra Ulku, Bayram Yetismis.
REPORT COMPILED BY LEAH BALLA
PHOTO: ASHLEY PEREZ PHOTOGRAPHY