Jakupi to call ABD Stadium home for the next two years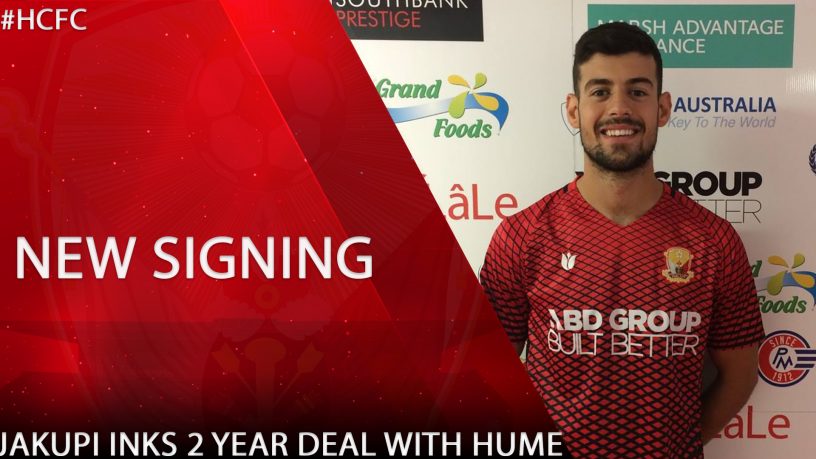 Hume City is delighted to announce the signing of Dillon Jakupi.
Speaking after signing a two year deal, the versatile 22 year old said he has felt right at home in his new surroundings.
"It is an extremely professional environment, starting from the excellent coaching staff, the volunteers and club administrators, and especially the senior group who have made me feel very relaxed and at home right from the outset," Jakupi said.
"I had previously enjoyed training and playing under Dean Hennessey and coupled with the huge advantages of Hume City having the best dedicated football facility in Melbourne and the excellent coaching staff and program, it made the decision to move to Hume City an easy one."
Jakupi, who will be looking to cement himself a starting position over the next couple of weeks before the season proper begins, indicated that he believes Hume City fans have much to look forward to in 2017.
"I strongly believe that Hume City will be one of the leading clubs in NPL Victoria in 2017 playing entertaining football and successful football," Jakupi explained.
"There is such a good mix of established senior players and younger players ready to make the mark on NPL that the potential for success is very high."
Technical Manager Dean Hennessey remarked that after working with Jakupi in the past he had kept tabs on the promising youngster in the hope of one day working with him again at ABD Stadium.
"I had Dillon at Dandenong Thunder in 2014," Hennessey said.
"Dillon always impressed me with his approach to training and due to a few niggly injuries it limited his opportunities there.
"He has impressed us no end with his athleticism both his speed and strength plus a really good work ethic and a decent playing ability.
"He is very versatile and having just turned 22 can play many positions which gives him great opportunities moving forward.
"We look forward to working with Dillon for the next two years and beyond."