Pre-season gets underway at ABD Stadium
Hume City's senior and under 20 side got its pre-season underway at ABD Stadium this month with players completing a series of tests and analysis exercises as the coaching staff begins to prepare for the beginning of pre-season friendlies.
Hume City will face its first test when it plays Richmond SC (seniors kick off at 3pm, under 20's at 1pm) at ABD Stadium on Saturday, a chance for the coaching staff to get a measure on the progress made in pre-season.
Next up for Dean Hennessey's men is a friendly with the highly fancied Bentleigh Greens at ABD Stadium, kick off scheduled for 7pm on Tuesday.
Rounding out the pre-season friendlies is an encounter with the newly promoted North Geelong Warriors on Saturday the 17th of December, under 20's kicking off at 2pm and the seniors at 12pm.
 ?James McGarry goes through his paces
These matches will acts as a pre-cursor to Hume City's pre-season trip to the Gold Coast where it is set to take on Brisbane Strikers and Broadbeach United.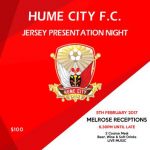 Last time Hume City played Brisbane Strikers it turned out to be one of the best games in the history of the FFA Cup,  however this time the club's will be looking for more of a relaxed encounter.
November saw new players and staff were welcomed to the Broadmeadows playing fields, with the coaching staff keen to impress their plans on their new recruits and explain their objectives for the year ahead.
 ?Yusef Mohamed continues on his recovery from injury
Players were put through a number of tests which helps measure their leap, speed and agility. These results will be re-tested by the club's sports science team again as the pre-season continues to track their improvements ahead of the upcoming 2017 season.
Hear from the re-signed Daniel Clark below who gives his thoughts on the beginning of pre-season and his goals for the upcoming year.