FFA Cup: Hume City Vs Melbourne Victory ticketing information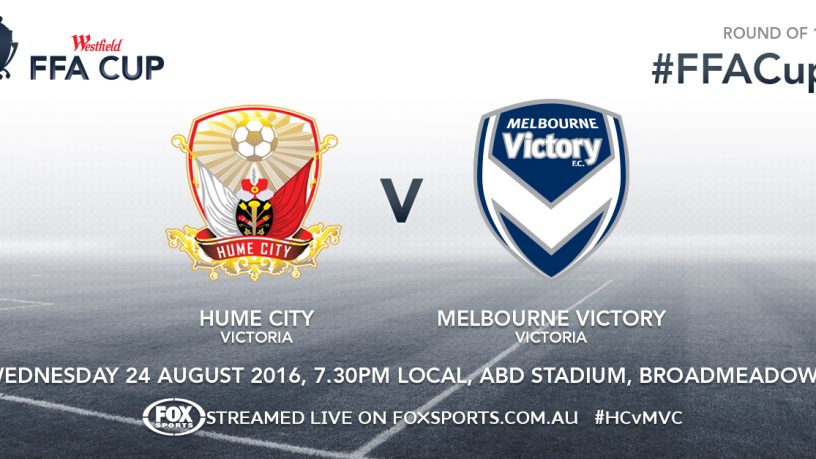 The match will be played at ABD Stadium in Broadmeadows, with kick-off at 7.30pm AEST.
The two sides last met in the Semi Finals of last year's Westfield FFA Cup , with Victory winning 3-0 on its way to claiming the title.
Hume City will be out to cause a huge upset and has a chance to take revenge on the 2015 A League Champions.
Tickets will go on sale Monday 15th August at 9am.
Capacity has been limited for this match so make sure you purchase your tickets early.
The match will not be broadcast on television, though Fox Sports will provide a live online stream .
In other matches on August 24, Brisbane Strikers host Melbourne City, with Canberra Olympic up against Redlands United, and Blacktown City taking on Bonnyrigg White Eagles.
On Tuesday, August 30, Edgeworth Eagles entertain Western Sydney Wanderers, Devonport Strikers face Bentleigh Greens, Melbourne Knights host Green Gully, and Perth Glory and Sydney FC meet in an all- Hyundai A-League encounter.
Westfield FFA Cup 2016 Round of 16
Wednesday, August 24
*Brisbane Strikers (QLD) v Melbourne City, 7.30pm AEST, Perry Park, Bowen Hills QLD
Canberra Olympic (ACT) v Redlands United (QLD), 7.30pm AEST, Deakin Stadium, Deakin ACT
Blacktown City (NSW) v Bonnyrigg White Eagles (NSW), 7.30pm AEST, Lilys Football Centre, Seven Hills NSW
Hume City (VIC) v Melbourne Victory, 7.30pm AEST, ABD Stadium, Broadmeadows VIC
Tuesday, August 30
*Edgeworth Eagles (NNSW) v Western Sydney Wanderers, 8.00pm AEST, Magic Park, Broadmeadow NSW
Devonport Strikers (TAS) v Bentleigh Greens (VIC), 8.00pm AEST, Valley Road, Devonport TAS
Melbourne Knights (VIC) v Green Gully (VIC), 8.00pm AEST, Knights Stadium, Sunshine VIC
Perth Glory v Sydney FC, 8.30pm AEST, Dorrien Gardens, West Perth WA
Please note, details of fixtures are subject to change.
*Broadcast live and exclusively on Fox Sports.
© 2014 Hume City FC All rights reserved.