JUNIORS: U16s Draw with NTC 2-2 after conceding last minute penalty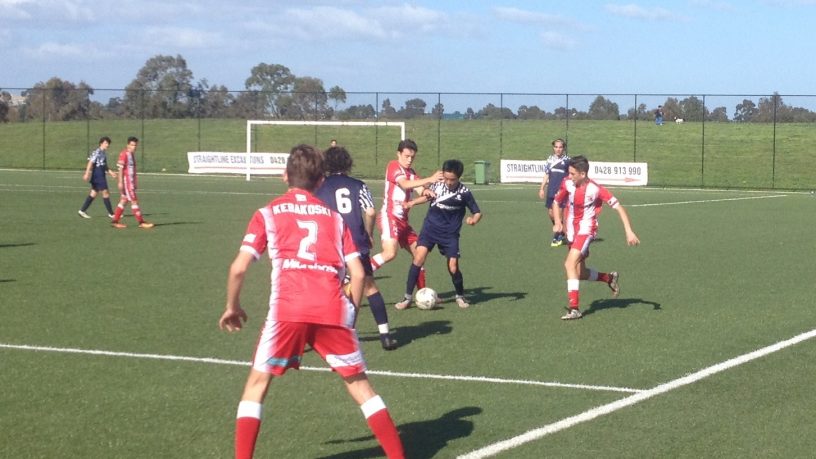 The U16's went into the NPL round 19 match against NTC with a depleted side due to illness for a number of players and a goalkeeper trialling overseas for a spot in the USA College and MLS competions, with two players stepping up from the U15s up to play goals in for each half.
As expected the NTC side played a possession based game from the outset, however the Hume side were effective in blocking their forward movement and restricting their path to goal resulting in the visitors resorting to long range shots.
Hme were able to play in a counter-attacking style and scored the first goal just after the 25 minute mark when Tom Harris netted after Matthew Farrugia hit the post. The home side were able able to keep good pressure on the visitors and the first half ended 1-0.
The second half continued to see NTC maintain a roughly 70% possession rate but couldn't do much with it and it would be the home side who were clearly dominating the game.
The visitors found a way through the Hume defence around the 70 minute mark to equalise only to see Hume strike back moments later through Tom Harris.
It looked like Hume were going to hold out the visitors until a very soft last minute penalty was awarded to NTC who scored the equaliser to level the game.
In the very last action of the game Hume were able to get a good shot at goal but it sailed over the crossbar and the whistle blew to end the match 2-2.
It was a game that felt like the one that got away but it was a good showing from a depleted team and a great warm-up for this weeks match against last years premiers, Whittlesea.
Team List
1
Daniel
Milenkovic
2
Andy
Kebakoski
4
Aydin
Gocol
6
Behic
Eraltay
8
Deran
Kuyucuogullari
10
Matthew
Farrugia
11
Owen
Hughes
12
Kerem
Akyayla
14
Thomas
Harris
15
Ishak
Ulker
16
Miguel
Caceres
17
Eden
Brandon
18
Nawid
Najafi
78
Talib
Al-Khirsany
Injured/sick
3
Julian
Vallese
5
Emihran
Isik
9
Deniz
Sahinkaya
21
Hassan
Saleh