JUNIORS: U16s notch an away win against Avondale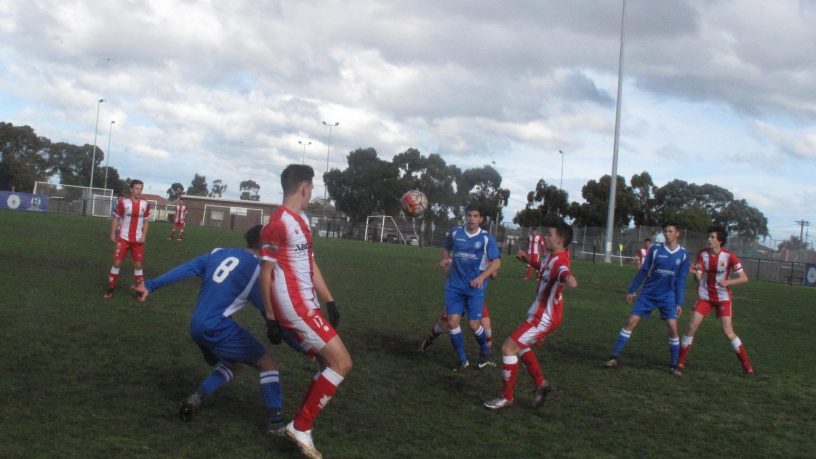 Hume City travelled to Avondale SC for the NPL Round 18 match determined to bring the points home after a heavily undermanned team suffered a home loss to Ballarat last week.
The Hume side started the match well and despite the soft ground and windy conditions were able to play a good possession game and were unlucky not to take an early lead with only a quality save keeping the first shot on goal out.
It took 25 minutes before Hume were able to take the lead after Tom Harris passed to Deniz Sahinkaya in space in front of goal.
Avondale were able to equalise 10 minutes later taking their chance after the last defender slipped on the soft ground, taking the game to 1 – 1 at half time.
Hume continued to dominate the game with good number around the ball but were unable to get a clear shot at goal until Eden Brandon used his strength & pace to get past the last defender and scored one of the goals of the season, to give Hume a 2 – 1 lead.
The Avondale side then threw everything they had to force a draw and the last 20 minutes were played mostly in the Hume defensive half. Despite a few close chances they were unable break a resolute Hume defence and the game ended with a 2 – 1 win to Hume City.
It was a good confidence booster for the team after last week's defeat and will help them in their preparations for another tough game this week against NTC.
Team List:
1
Sam
Butcher
2
Andy
Kebakoski
4
Aydin
Gocol
5
Emihran
Isik
6
Behic
Eraltay
8
Deran
Kuyucuogullari
9
Deniz
Sahinkaya
10
Matthew
Farrugia
11
Owen
Hughes
12
Kerem
Akyayla
14
Thomas
Harris
15
Ishak
Ulker
16
Miguel
Caceres
17
Eden
Brandon
18
Nawid
Najafi
21
Hassan
Saleh
Injured
3
Julian
Vallese
© 2014 Hume City FC All rights reserved.