Captains Corner: Vol 16.6
Happy Tuesday Everyone!
So like a lot of stupid Englishmen I woke up at 4.50am to watch what was always going to be an utter disappointment. We are used to this so it's not a great shock. As I mentioned in the last blog there was an obvious difference in possession between the teams. We all know however, that possession doesn't win games, this has become very apparent over the last few months with the Euro results and little old Leicester winning the premier league. So it brings me to the playing to your strengths football philosophy. Why didn't England play like Leicester?
How would this team of faired in the Euro's??
I tried to replicate the Leicester City Formula! Could it have done any worse! England has one of the best, if not the best league in the world. However the top players in most teams are foreigners. With this information, how can you expect 'OK' premier league players to play like Germany or Spain (when they were at their best), its just not going to happen. Can we not be content with being a hard working, 4-4-2 playing team? If England had set up to counter attack against Russia, Wales, Slovakia and Iceland, would those teams have had the ability to open us up??
Big shout out to Petar Franjic who has made a sensational return from an ACL injury in recent weeks. Could not be more happy for Pete who capped off his return with a goal against Victory on Saturday. Now…. get on the goal below. If this had been a goal in the Euro's by Belgium or Germany you would have Richard Keys and Andy Gray drooling. A 19 pass move which included a touch by EVERY Hume City outfield player!!! I'm going to have to hit google to investigate if something similar has been done before, surely it has!!!!
I'll Finish with Nathan Talevski. Nathan came out victorious in the competition to win my New Balance boots last week. The comp which was a technique circuit including, juggles, crossbar challenge, weighted passes and more was a solid work out for all that took part as well as allowing quality to shine through. Under 12's player Nathan smashed it and is now the happy owner of some hard earned boots!!!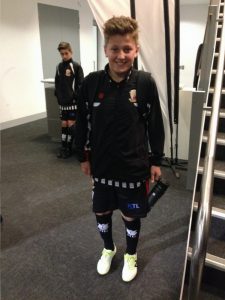 Oh, and i turned 30 years old at the weekend!! Thanks do my team mates for helping me stay happy with 3 points and my Under 11 team for a fantastic performance and win. (This win was not recorded as football is all about taking part!)
Cheers,
Hegs
© 2014 Hume City FC All rights reserved.