JUNIORS | U16's Suffer 0-3 Home Defeat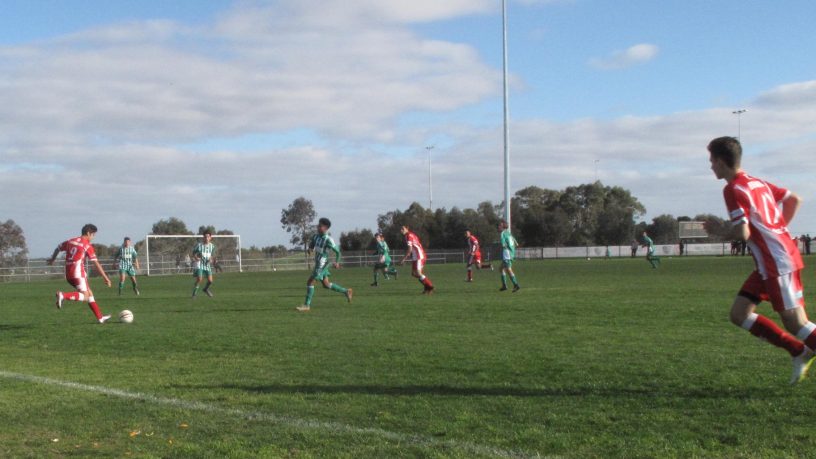 Hume City's under 16 side faced fellow title aspirants Green Gully at ABD Stadium on Sunday, with the match billed as a contest between two sides fighting for second position on the ladder. Hume came into the game after an unsettled training schedule, however the players believed they were as prepared as the could be heading into the contest.
In good conditions for football the game began with a fast pace and it was the Gully side that got on top, playing hard & being first to the ball. The Hume side went behind in the 9th minute, however it would step up its pace thereafter and created some good chances.
Despite an increase of intensity from Hume City it would be Gully who would score their second for the game before half time.  Shortly after Miguel Caceres almost pegged back the lead, when he missed a one on one chance at goal.
The 2nd half saw Gully immediately attack the Hume goal but were held out by a determined defensive effort. At the other end Hume went in search of their own chances, however they would be frustrated by some rigid Gully defending.
The away side would score their third in the 67th minute and ultimately put the result beyond doubt.
Hume created a few half chances in the final minutes but the game ended for Hume with a 3 nil defeat to Green Gully.
A disappointing result for a good side who now have to leave that defeat behind it and focus on the next game vs St Albans and getting back to their winning ways.
Team List
RND 13
#
NAME
SURNAME
1
Sam
Butcher
2
Andy
Kebakoski
4
Aydin
Gocol
5
Emihran
Isik
6
Behic
Eraltay
8
Deran
Kuyucuogullari
9
Deniz
Sahinkaya
10
Matthew
Farrugia
11
Owen
Hughes
13
Thomas
Privetelli
14
Thomas
Harris
15
Ishak
Ulker
16
Miguel
Caceres
17
Eden
Brandon
18
Nawid
Najafi
21
Hassan
Saleh
Injured
3
Julian
Vallese
12
Kerem
Akyayla