U16s Draw Away With Werribee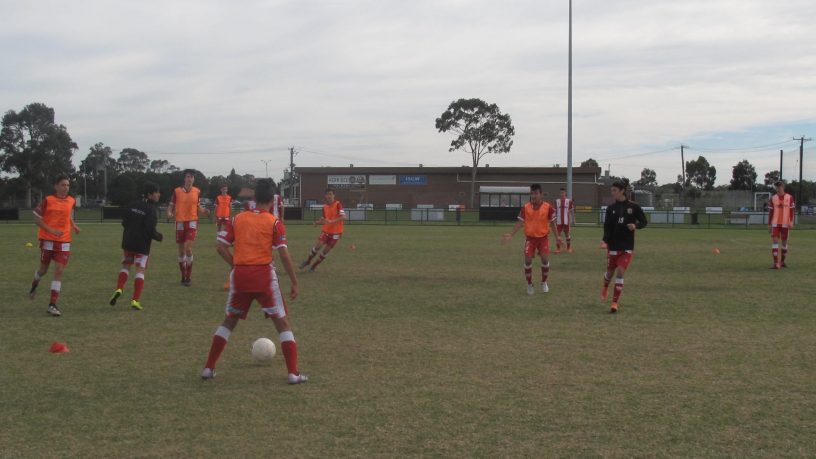 Even before kick-off in the NPL round ten away clash with Werribee it was clear that the windy conditions would play some part in the game. After winning the toss the the home side took the wind advantage and it was the Hume side who struggled pushing into a strong breeze on a small ground. The game had a fast tempo from the beginning but it was Werribee who where getting the upper hand despite a few missed shot attempts by Hume. Werribee got the first goal in the 18th minute getting in behind the Hume defence and crossing into the box for a goal. The Hume side were unlucky to hit the goalframe twice before the half ended 1 – 0 to Werribee.
The second half saw both sides come out strongly and getting some early shots on goal. The wind completely died out so any advantage in going with the breeze in the second half for Hume was lost. After starting to play the ball out to the wider areas Hume leveled the scores in the 57th minute with a well placed shot from Deran Kuyugocullri from a cross by Eden Brandon. It was then a succession of missed shot attempts from the Hume side. Despite dominating the rest of the game there were a few close calls from counter attacks by Werribee nearly breaking through the Hume defences. The game ended in a 1 – 1 draw.
Despite getting a draw under difficult conditions the team was disappointed not to get the win, but once again had to chase the game.
Team List:
| | | |
| --- | --- | --- |
| # | NAME | SURNAME |
| 1 | Sam | Butcher |
| 2 | Andy | Kebakoski |
| 4 | Aydin | Gocol |
| 5 | Emihran | Isik |
| 6 | Behic | Eraltay |
| 7 | Anthony | Mancuso |
| 8 | Deran | Kuyucuogullari |
| 9 | Deniz | Sahinkaya |
| 10 | Matthew | Farrugia |
| 11 | Owen | Hughes |
| 13 | Thomas | Privetelli |
| 14 | Thomas | Harris |
| 15 | Ishak | Ulker |
| 16 | Miguel | Caceres |
| 17 | Eden | Brandon |
| 18 | Nawid | Najafi |
| Bye | | |
| 3 | Julian | Vallese |
| 12 | Kerem | Akyayla |
| 20 | Zak | Kambouropoulos |
| 21 | Hassan | Saleh |