U16s finish strongly to secure 4-2 win at home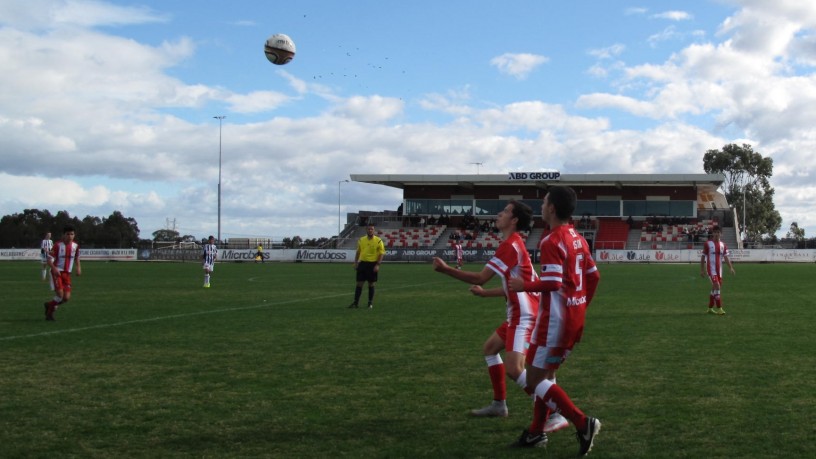 The U16s home game vs Moreland Zebras kicked off in blustery conditions at ABD Stadium on Sunday afternoon.
The visitors managed to get behind the Hume defence a few times early in the game and were rewarded with the first goal.
Hume City managed to wrestle control of the game and Miguel Caceres once again was the first scorer for Hume with a nice breakaway run, getting in behind the keeper to run the ball into the back of the net.
Eden Brandon scored the second goal for Hume soon after with a clinical finish from the top of the box, taking the home side to the break with a 2-1 lead.
Moments after the second half kicked off the visitors capitalised on a loose ball in defence and levelled the score at 2-2.
From there Hume would dominate the rest of the half and although it gave away a few free kicks close to goal it ran away with the points after Aydin Gocol and Tom Harris scored two second half goals to win the game 4-2.
The team were once again rewarded for their 'never say die' attitude with a strong finish to the game.
Team list: 1Sam Butcher, 2AndyKebakoski, 4AydinGocol, 5EmihranIsik, 6BehicEraltay, 7Anthony Mancuso, 8DeranKuyucuogullari, 9DenizSahinkaya, 10MatthewFarrugia, 13ThomasPrivetelli, 14ThomasHarris, 15IshakUlker, 16MiguelCaceres, 17EdenBrandon, 18NawidNajafi, 21HassanSaleh  Bye:3JulianVallese,11OwenHughes,12Kerem Akyayla, 20ZakKambouropoulos