Under 12's vs Moreland City FC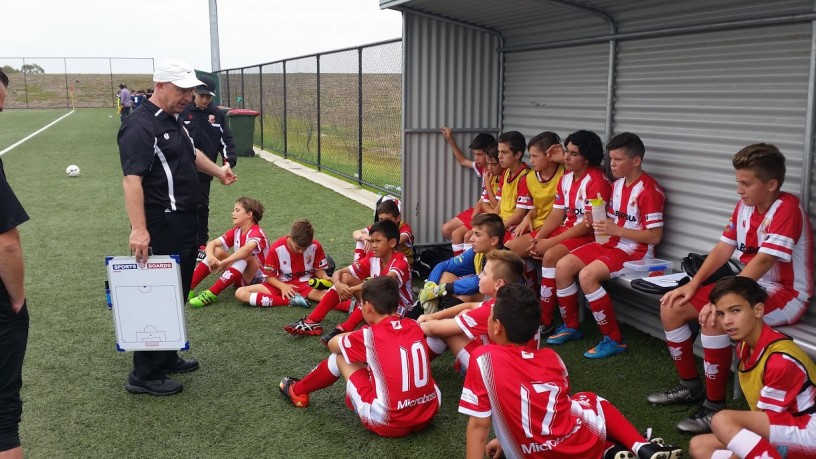 Hume City Under 12's v Moreland City
After a fantastic pre-season from the boys the time had come to kick-off the 2016 NPL season. The pre-game message was that to be a consistent footballer and get the best out of yourself it's important to get a good night's sleep and consider your hydration and nutrition. Just because there were points up for grabs for the first time this season nothing needed to change. I wanted to remind the boys that being a footballer is a privilege and it's important to enjoy the journey and to love playing football for the love of the game.
The game started at break-neck speed and it was immediately apparent that Moreland City were a quick, skilful and committed team. Our boys started off a little nervously but soon found some rhythm and slowly began to take control of the game. We created quite a few opportunities before Aydin Cekic cleverly found some space and hit a beautiful shot across his body to put us 1-0 up. Goalkeeper Eren Arslan communicated well with his back four of Emre Saglam, Lucas Trenkovski, Bayram Yetismis and Jae Ciarma. Emre and Jae gave us some great drive from the flanks. Nathan Talevski played a sweeping central midfield role and supported birthday boy and this week's captain Jake Nadjovski by covering plenty of ground while the skipper attempted to open up the opposition with his creative play. As usual Max Krysinski caused havoc and was feeding the mobile front three of Kaan Elibol, Tino Casa and Aydin Cekic.
Moreland counter-punched well and much credit must go to them for their good play throughout the game. However, after a few changes more energy was brought to the team by Darius Mihaljevic, Zain Balla and Ethan Alcantara before a fantastic strike by Kayra Ulku saw us go up 2-0 and give us a little breathing space.
In the second half the boys continued to push the ball around well and create opportunities. Eren Onur was staunch in defence as Moreland pressed again. With Ahmed Abbas having the week off and injured striker Deha Kurul working the coaching board it was Captain Jake who finally put the last nail in the coffin as we held on to a solid 3-0 win. As is our intention whether we win or lose the boys congratulated their opponents before singing the Hume song for the very first time as a team (We have a little work to do- ha ha!)
It was an enjoyable morning all round and a sign of a very competitive league in front of us. And it's at this point I'd like to remind everyone involved with the Under 12's to enjoy the journey – not just the destination. These are times to be cherished. We will have our ups and downs, some highlights and challenges. We should embrace the fact that our boys will face some great young teams that the NPL competition will provide and revel in the opportunity to watch the boys enjoy playing a good standard of football week in-week out, win ,lose or draw.
They are such great bunch of kids I look forward to watching them develop their football thinking and skills as we progress throughout the year.
Cheers,
Coops
Pic from weekend
https://goo.gl/photos/213yMycGDtmmWfGA8